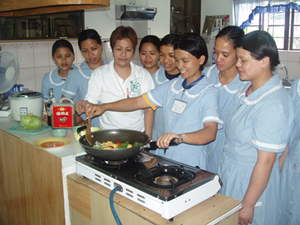 C&C Oversea Employment Company was set up in 1993(The Labour licence no. is 52594), Our company name, C&C, means Communication and Care which are our objectives.
With our experiences, we are able to master the skills on the fields of communications and caring. Therefore, we are different from the others with only mechanical-operational managing system or those newly open agencies which are lack of experiences. We can provide effective and efficient ways to handle each cases, it may let you feel more comfort and relieve.
With the increasing demand on domestic helpers but the decrease in supply and quality, we have chosen to invest in Indonesia and Cambodia to set up a training center with real case training. On the other hand, according to different needs of employers, maids will be sent to attend different classes for skills enhancement in order to integrate with the employer's family easily.
In addition, we have also set up training center in The Philippines with local agencies. Staff would be sent there regularly as to assess whether maids are well equipped or not before they arrive Hong Kong.)
| | | | |
| --- | --- | --- | --- |
| 1) Languages | 2) Housework | 3) Chinese Food | 4) Caring of Baby |
| 5) Caring of Children | 6) Caring of elderly and disabled | 7) First Aid | 8) Psychological Counseling |
| 9) General Sense | 10) Communication Skills | | |
Along with those courses, one or more translation personnel will stay in each of our branches providing translation services of interview and work for employers for free. This is because we believed that a pleasant employer-employee relationship cannot without a good communication.